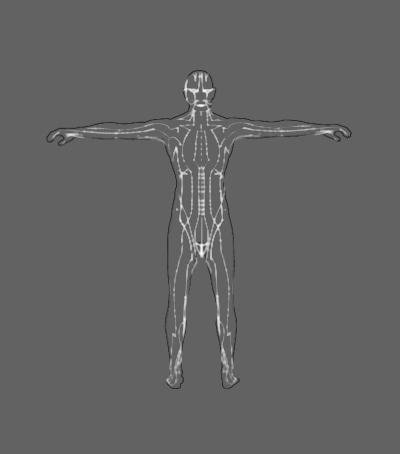 Meridians. 
These are well known and used by the acupuncture tradition, and relate to different organs, both organs of the physical-body and "organs" of the energy-systems. However, they can also relate to other energy-bodies (for example one meridian which is near the surface of the skin on the side of the neck connects to the 3rd Soul-level).
Also, there are actually more meridians outside the body (not illustrated) than inside it, plus other energy-structures outside those, and each meridian junction has a connection to Source/Ground.Acupuncture and Zero-balancing work with the Meridians inside the meat-body, and you can use a simplified approach, EFT (emofree.com) yourself, which can be effective on emotions and feelings, and if you use it consistently for at least 3 weeks can make other changes.
Negative experiences, and some other aberrational influences, can be seen as being stored as configurations of the whole Meridien-system. The Meridien-system relates somewhat to Morphic-field configurations.
---